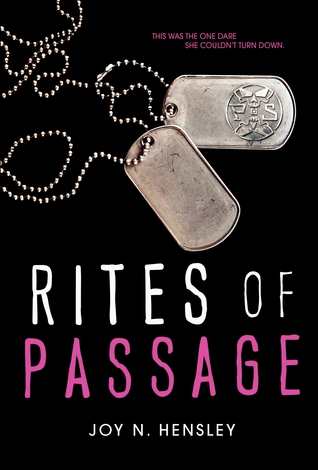 This has to have been one of my favorite books this year! Such a fast-paced, well written novel set in a military academy. It had so many heartwarming moments, surprises and adventure, and Sam's spunky attitude and perseverance made her such a strong leading character.
Sam McKenna's never turned down a dare. And she's not going to start with the last one her brother gave her before he died.

So Sam joins the first-ever class of girls at the prestigious Denmark Military Academy. She's expecting push-ups and long runs, rope climbing and mud-crawling. As a military brat, she can handle an obstacle course just as well as the boys. She's even expecting the hostility she gets from some of the cadets who don't think girls belong there. What she's not expecting is her fiery attraction to her drill sergeant. But dating is strictly forbidden and Sam won't risk her future, or the dare, on something so petty… no matter how much she wants him.

As Sam struggles to prove herself, she discovers that some of the boys don't just want her gone—they will stop at nothing to drive her out. When their petty threats turn to brutal hazing, bleeding into every corner of her life, she realizes they are not acting alone. A decades-old secret society is alive and active… and determined to force her out.
At any cost.

Now time's running short. Sam must decide who she can trust… and choosing the wrong person could have deadly consequences.
When I started reading this novel, I thought it was going to be a very simple, very easy-going novel. I could almost predict the ending when it started. BUT I WAS WRONG. And never have I been more excited to be wrong! There are so many twists and turns (and I don't want to spoil anything for you), but I can't express how much I admire Joy N. Hensley and her writing style. Especially when it comes to plot!
Sadly, almost everything I can say about this novel will probably be some kind of spoiler, but I will say this: secret societies, strong female lead, pumpkin pie, adventure, peril and everything awesome have been whipped into this book.
I loved the way the characters interacted with one another! I was very impressed. No one seemed to be a cookie cutter, and their needs/wants were very prevalent. I felt like each character gave up something by the end, and in turn, gained something important. Very believable, and they really felt grounded in their world.
Any and all military 'brats' will enjoy this read, as it has several inside jokes and puns relevant to military families. If you're interested in joining the military, or enjoy shows with military themes, you'll like this too.
AUTHOR Joy N. Hensley is a former middle school teacher. She used to spend her twenty-minute lunch breaks hosting author Skype chats for her students. Once upon a time she went to a military school on a dare. She lives in Virginia with her husband and two children, finding as many ways as she can to never do another push-up again. You can visit her blog here: http://www.joynhensley.com/