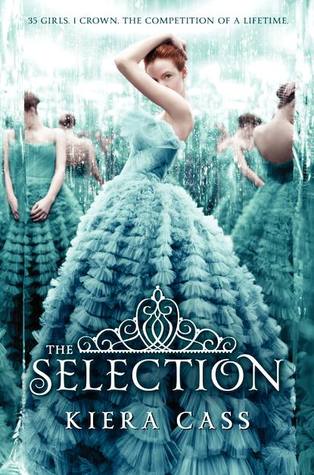 This series wasn't what I was expecting, but I was really excited to see where it ended! I expected it to be a soap opera meets reality TV, but in book form. I was actually pleasantly surprised that the cameras weren't around very often, and the story focused more on America (our main character) deciding who she was, and what she wanted. Yes, it was lighthearted and fun, but also managed to be exciting and sometimes a little surprising!
For thirty-five girls, the Selection is the chance of a lifetime. The opportunity to escape the life laid out for them since birth. To be swept up in a world of glittering gowns and priceless jewels. To live in a palace and compete for the heart of gorgeous Prince Maxon.

But for America Singer, being Selected is a nightmare. It means turning her back on her secret love with Aspen, who is a caste below her. Leaving her home to enter a fierce competition for a crown she doesn't want. Living in a palace that is constantly threatened by violent rebel attacks.

Then America meets Prince Maxon. Gradually, she starts to question all the plans she's made for herself—and realizes that the life she's always dreamed of may not compare to a future she never imagined.
Okay, so our 35 leading ladies (YIKES!) are slowly but surely cut down to more manageable numbers as the competition wears on (down to six by the second book). Each seems to be pretty well crafted. They all want the same thing (the prince), but I'm really happy to say each has a life/interest outside of pursuing him.
Our main lady, America, is our glimpse into the world, and she's not too bad. She's wishy-washy at times (There were times I literally couldn't even with this girl) about what she wants. In the third book especially I couldn't believe how wimpy she had become. Luckily her backbone came back whenever she needed it, so it seemed to be a choice made in the writing style. I dunno. You sometimes love her, you sometimes don't. I understand Maxon's dilemma now.
Speaking of our leading man, let's talk Prince Maxon. He's a prince, he's apparently handsome. He's never been outside the palace and knows very little about how his subjects live. He is incredibly sweet, and is very well developed. He has hobbies, interests, and duties. He's also got the fair sprinkling of drama/backstory to keep him going throughout the series. Not too bad a character. Until the last book. I can't spoil it, but I just got so frustrated at his on/off switch at the end of the books. He loves her. Now he doesn't, he loves this one. He loves her again. Sigh.
This was a fun read, and it did keep me interested, but it wasn't an edge-of-the-seat read. It was more lean-back-and-wonder-how-this-will-end. But, there were actually times it did get pretty exciting. I was surprised at the Dystopian vibes sprinkled throughout (the world is divided into a caste system. The lower your number, the further down you are. Our heroine is a 6). I just wished it had dived a bit more into those areas.
I was a little confused by the end of the series. I mean, yes, yay, he finally picked (you knew it might eventually happen). But it just felt… rushed.
We went straight from the climax, to the wedding (hey, he picked, so he's obviously going to marry whoever he picked). I would have liked to stay in the aftermath of the climax for a few extra pages. To explain a bit of what just happened (because it went a little too fast and I had to read it a second time to be sure I didn't miss anything).
It is a really cute story. Well thought out. I'm planning on reading the short stories/sequel, so I can hopefully learn more about the world, and find out more.
To be clear, this is a Romance at heart, but see, there's a lot of stuff around that heart. Let me explain.
The trilogy (and the short-stories and sequel I'm assuming) all revolve around Prince Maxon making this choice about who he intends to marry. However, this takes place in the midst of some pretty crazy stuff.
There's regular attacks on the castle, some really awesome world building, friendships, and best of all, mystery. Yep. It might be romance, but there's more than enough other stuff to keep you going.
Overall, it was a really cute and fun read if you're just looking for something to read and don't want to become too invested in the characters or the world.
AUTHOR Kiera Cass is a graduate of Radford University with a B.S. in History. She grew up in South Carolina and currently live in Christiansburg, Virginia with her electrical engineer hubby, car-obsessed son, and princess-loving daughter. She is a #1 New York Times bestseller, woohoo! She is also a valued customer at my local cupcake shop.You can visit her website here: http://www.kieracass.com/