Never have I stayed up late and got up early to finish a book. I could barely sleep because my mind was spinning with everything going on in this world. Will they live? Will they die? Who will find out? What will they do? It was amazing. I am so relieved to discover this is a trilogy!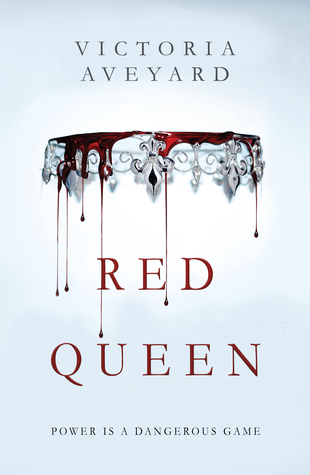 The story centers on Mare, a 'Red' (someone with red blood) who stumbles upon the fact that she has powers. The weird thing is, only Silvers (someone with silver blood, the elite) are supposed to have powers like this, and she begins to discover just how dangerous they can be. Complete with coups, rebellion, deception and heart, Mare must decide what she believes in, and who she can actually trust in this world of silk and subterfuge.
The world building in this story was dizzying. There are houses for each of the different Silver families, and we're introduced to at least twenty throughout the book. It's hard to keep track of what house everyone belongs to and their corresponding power, but this just made me connect with Mare as she struggled to keep it all straight herself.
Mare finds herself attached to the two princes of the Kingdom. Mavin and Cal. Cal is in line for the throne. Mavin is the 'spare' and honestly seems to be better cut out for the throne (which causes quite a bit of tension).
Mare is a thief who knows she doesn't have much of a future. Living in poverty and destined to be sent to find in a never ending war, you can really feel just how tired she is of her world. I really loved how she seemed to change her perspective of that world when she discovers her powers, but she doesn't change completely. Overall, I found her a very likable and very strong character.
The world includes several supporting characters including the other Silver teenagers who train to control their powers. I didn't enjoy this part of the book nearly as much, not really seeing the point of them fighting and training daily (until the end. Then I totally understood).
In reading the Goodreads reviews, it seems that the general thought is that this book copies points from many other similar books (including many people referencing the Mockingjay??). Never having read any of the Hunger Games books, I stick by my decision. This is a wonderful, gripping, exciting young adult novel that I think a reader of any age could enjoy.
ABOUT THE AUTHOR: I'm a writer repped by Suzie Townsend at New Leaf Literary & Media, Inc. I split my time between my hometown East Longmeadow, Massachusetts and Los Angeles. After graduating with a BFA in Screenwriting from the University of Southern California, I decided to try my hand at writing a novel. My debut RED QUEEN came out of the terrifying, unemployed year after college.
Currently I'm revising the second book in the RED QUEEN series, along with pursuing other projects in literature and film. My proudest achievements are riding a horse in the mountains of Montana and navigating from London to Edinburgh without GPS. http://victoriaaveyard.com/